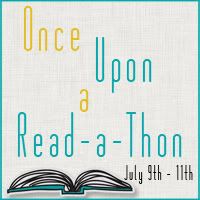 Hello Everyone! It's super early Monday morning here on the East Coast which means Once Upon a Read-a-Thon has BEGUN!! Wahoo! This is our first Read-a-Thon and we're really excited to be participating. Want to participate too?? Head on over to
Pure Imagination
and sign up! You have until midnight tonight before sign ups close.
Nick got a head start early tonight and went bed with
Rot & Ruin
by Jonathan Maberry.
While I have just started
Arise
by Tara Hudson.
We never know what book we're reading next since we have so many choices so stay tuned! We can't wait to see what everyone plans on reading over the next few days.Feel free to leave us some love in the comments below and may the reading odds be ever in your favor!